The Army Cadet League of Canada, in celebration of 50 years of support to the Royal
Canadian Army Cadets, commissioned a coin to recognize individual volunteer
contributions, the 50th Anniversary Volunteer Recognition Coin of Recognition Coin for Exceptional Service.
The 50th Anniversary coin logo incorporates the crest of The Army Cadet League of Canada
(ACLC) with core elements of the Royal Canadian Army Cadet training that the ACLC
supports.  The crest is supported by hands of giving, representing the selfless acts of volunteerism provided by the ACLC members and volunteers.
Here are our Saskatchewan 50th Anniversary Recognition Coin for Exceptional Service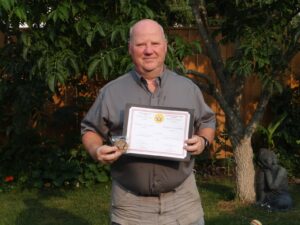 George Trotter – 328  Saskatoon Medical RCACC- Saskatoon
Mr George Trotter is a Veteran of the British Military and was the President of the Parents Committee for 328 medical RCACC for about 5 years.
Mr Trotter stepped up when the President 's position became vacant due to the previous President resigning that position. His 4 children all went through 328 cadets and filled leadership roles which helped to run the corps and help the corps Officers
We are proud of his family's involvement in the corps and the support committee.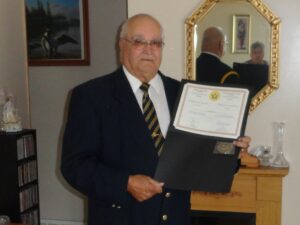 Gary Renaud – 390  North Saskatchewan Regiment RCACC – Prince Albert
Mr. Gary Renaud has been both a member and a friend to 390 Royal Canadian Army Cadet Corp (North Saskatchewan Regiment) commencing in 1965 as an officer cadet.  He has dedicated untold hours to our Corp filling positions from Commanding Officer to Civilian Volunteer.   Gary has watched as generations of Prince Albert and area youth have transitioned through the program to become contributing members of our society.  He has always been willing to assist both staff and cadets with any task or challenge.  Gary has acted as both a coach and a mentor to all members of our Corp.  Even when Gary took a step back from direct involvement, he continued to promote our Unit within our community.  He served with the Royal Canadian Legion where he acted as Sgt at Arms and Branch President. He ensured our Corp was supported by and involved with Legion activities.  Those interactions, specifically in regard to Remembrance Day, allowed our cadets to grow as individuals and most importantly learn empathy and citizenship. Recently he has been an assistant and mentor helping out in our QM ensuring new cadets were issued their kit and welcoming them into the Unit family.  He has been recognized by many as someone always willing to offer sage advice.  He is called a friend by all those that have had the pleasure to meet him.  Gary has proudly watched countless cadets including members of his own family age out of our program.  We have been extremely lucky that his wife Denise has shared Gary with us.  Gary has shown his support to our Corps, the North Saskatchewan Regiment, the Royal Canadian Legion and the Prince Albert community.  He is well deserving of recognition from the Army Cadet League. Thank you for your service, your endless support and most of all your friendship to us all.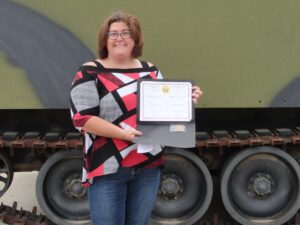 Diane Anderson – 572   Humbolt Legion RCACC – Humbolt, SK
It was four years ago that Diane Anderson started her volunteer service with the 572 Humboldt Support Committee. For the past couple of years Diane has been the SC's Treasurer but also acted as the committee's secretary when she first started. Diane joined as a volunteer not only at the time her son joined the corps but also at a crucial time when no other volunteer was available to provide the proper support to the corps. For that, the corps and the SK ACLC branch are grateful for Diane's exceptional contributions in support of the Army Cadets in Humbolt, SK.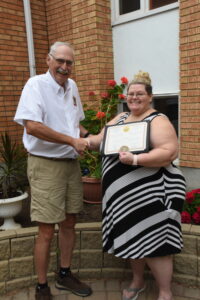 Michelle Welsh – 1856  Moose Jaw Schools RCACC – Moose Jaw, SK
Michelle Welsh has served as President of the Corps Support Committee for 7 years and has served as Past – President for the last 2 years. During her time as Chair of the SC, she has been very supportive of the corps acquisition of sport and camping equipment. This was a tremendous help in enabling the corps to have greater flexibility with their field-training schedule.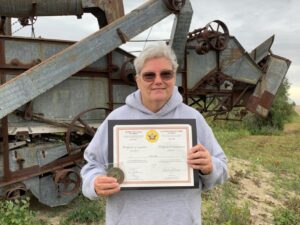 Violet Gibb – 2271 Pipestone RCACC – Wadena
Mrs Gibb has been a huge contributor and active support member to the cadet corps for the past 30 years. She supports the work we do in the cadet program and all extra-curricular activities. Violet has been involved in all fundraising activities for the benefit of 2271Pipestone RCACC.
She has amazing persuasive powers when planning, organizing and implementing a fundraising activity which are always successful. Many parents and volunteers jump on board because of her amazing character and personality.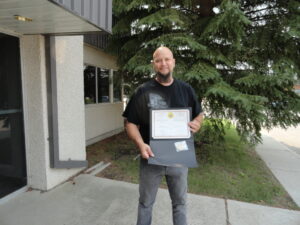 Mr. Rob Mitchell – 2293  North Saskatchewan Regiment RCACC – Saskatoon, SK
Rob Mitchell has been involved in our cadet corps for many years. He has always been helpful and supportive of both cadets and parents. He is a source of knowledge to answer questions and is very compassionate in handling comments or concerns from cadets or parents.
He is actively involved in the various planned cadet activities and fundraising, always providing the support needed. This past year he has taken it upon himself to put together new shooting targets for the cadets in marksmanship.
Mr. Mitchell has been the best example of the ideal volunteer – tenacious, good spirited and all around a great person to deal with.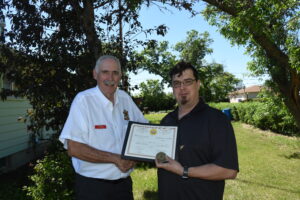 Wally Fraser – 2302 Weyburn Legion RCACC – Weyburn
Wally Fraser, President of the 2302 Support Committee is nominated for his continued efforts and dedication to 2302 Weyburn Army Cadets.  2020 has been a challenging year for all, and we believe that Wally's commitment to ensure the Cadets' well-being from the league-side has been commendable.  Along with his career and other volunteer activities, he still strives to serve our corps the best he can.
We have been trying to recruit more volunteers to be part of our support committee, but covid proves to be challenging to do this.  Wally has not given up on us.  We believe that his dedication deserves to be recognized.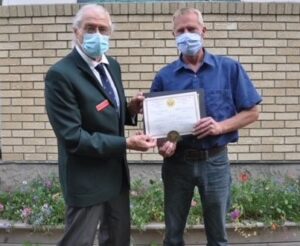 Tory Neald – 2370 10th Field Artillery Regiment RCACC – Regina
Tory and his wife Joanne have been part of the parent committee for 6 years. They have volunteered for numerous activities such as organizing pizza fundraising, tag days, and helping out with army cadet activities.
The last year their child aged out and they have still offered to stay on the committee.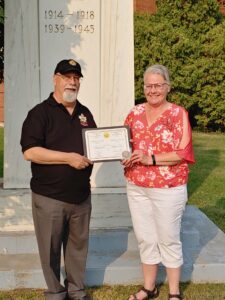 Colleen Elias -2517 Melville Legion RCACC  – Melville, SK
Although Colleen recently stepped down from her duties with the 2517 RCACC Support Committee, she still holds a very special place in the hearts of her colleagues at the corps. As a serving volunteer for 7 years, Colleen was a very important part of 2517 corps SC. She would always be there to lend a helping hand no matter the event, the time involved or when the event occurred. She was always the first to show up and the last to leave events organized by the Support Committee.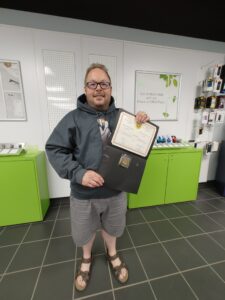 Darryl Arnold – 2537  Battleford Legion RCACC – North Battleford
Mr. Darryl Arnold. Darryl was our treasurer from 2015 – 2017, then at the 2017 AGM he stepped into the chair position and sat as chair for 3 years.
Through his many contacts from being a well known businessman in North Battleford he connected us to a multitude of different resources and businesses that contributed to our fundraisers year after year even after he stepped down as chair.  Some of his achievements include multiple upgrades out at the Cadet Camp, he also got us a permanent spot to parade and store our equipment. Without his business sense our core would not be where we are financially. Darryl still continues to be a supporter and contributor of our organization even though he is no longer a board member.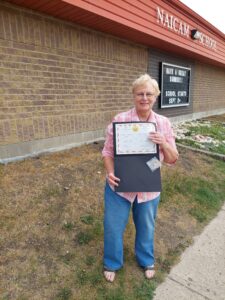 Alie Neish -2815 Naicam Legion RCACC – Naicam
Alie Neish,  has been volunteering for several years with 2815 Naicam. She is a reliable anchor  while the corps has been struggling with cadet, staff and support committee members. She has no family connections currently with the corps but is a reliable constant for cadets in the community. She is the glue that holds us together.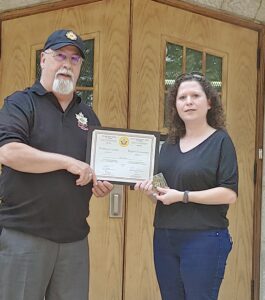 Tracy Greba – 2834 64TH Field Battery Royal Canadian Artillery RCACC – Yorkton, SK
The members and volunteers of the 2834 RCACC in Yorkton, SK want to recognize Tracy Greba for her outstanding volunteer contribution, hard work, and the long hours she has selflessly offered the corps & cadets over the years. She has dedicated these to the cadets with her awesome knowledge and in keeping staff, other volunteers at the corps & cadets grounded in these difficult times of the COVID pandemic. Tracy is a real asset to the cadets through her actions and her positive attitude.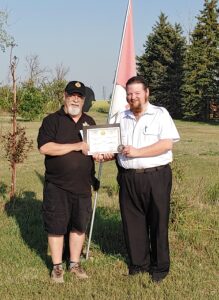 Troy LeBlanc – 2901 Estevan (Elks) PPCLI RCACC – Estevan
Troy has been volunteering in the position of Supply Officer for several years ensuring that all uniforms and accoutrements are available for all cadets within the corps.  In addition to his supply duties Troy has also been assisting with historical heritage education training to the cadets as well as the general public. These events include but are not limited to Vimy, Remembrance Day, Battle of the Scheldt provide logistical and technical support.  Troy also sets the example of volunteerism not only within the corps but in the community as well being involved with the Masons, South East Military Museum and Legion Branch #60.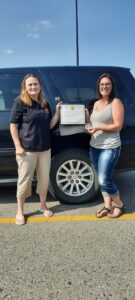 Jenna Parker – 2988 Monmatre Legion RCACC – Montmatre
Jenna Parker became involved with the corps when her son joined the program.  From day one she has been a driving force at the corps.  She acted as president and treasurer and spearheaded much of the fundraising at the corps.  She even managed a couple of fundraising activities during COVID, while we were limited to virtual engagement.  The recent fundraising was extremely important to the corps as we still had bills to pay related to our corps owned cadet building.  We were able to cover all of our expenses and had sufficient funds to purchase kit bags for the cadets this year.
Jenna also has generously agreed to help out the corps by running Supply and has assisted in reorganizing Supply and the storage area to dispose of unserviceable items and make things run more efficiently.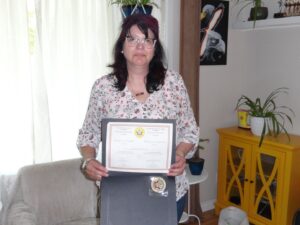 Carrie Lumsden-Bitternose -3071 North Saskatchewan Regiment RCACC – Saskatoon
Carrie Lumsden-Bitternose, has been with the 3071 Parent sponsoring committee for 7 years now, and she has been the treasurer for about 5 and a half years.  She has done an amazing job looking after and restoring the sponsoring committee funds after all the trouble that happened.  She has cooked meals for FTX's, delivered bag lunches for outings and done what ever the Corp has needed her to do, all on her own time.